NEWS
(Scroll down for more...)
NEW Firmware V0120 is available for the Macaw!
NEW The Smart ILS is available for all ADC and MCA systems!
---

Tetracam MCA products can now be configured with FLIR Tau sensors for IR image captures. The arrays can also mount a UV band using our new fused silica lens. These new cameras extend the band width of our arrays to include the range from 7500 to 13000 nanometers. Contact us for information about other TAU 2 products.
---
GoPro Style Clevis mount adapter for uADC
The popular GoPro RGB cameras are equipped with a Clevis mount for which a wide variety of adapters is available. Many UAV manufacturers have GoPro camera mounts and Gymbals which are compatible with the new ADC mounting option. End user recommended price for the option is $49.95.
---
Single band UV / VISIBLE / NIR Cameras
Tetracam's new line of single-band cameras is based on our popular ADC micro camera form factor. The cameras are configured with 1.3 megapixel monochrome Snap Shutter sensors with standard catalog filters that can be installed behind the lens.
Of special interest is the UV version, which with its fused silica lens can see short-wave energy in the 370 to 400 nm bands. Also available are conventional glass lenses for imaging narrow bands of the visible and NIR spectrum. The filters are field-replaceable, so the camera can be configured with different filters depending on the mission.
---
Tetracam's newest MULTI-CAMERA ARRAY is also its lowest priced. The RGB + 3 contains four registered and synchronized global snap sensors. These capture six bands; three broad bands of red, green, and blue and three changeable narrow bands of red (680 nm), red-edge (700 nm) and near-infrared (800 nm). The system is light and fast. It contains Tetracam's latest interfacing but most surprising is its price: $7995. Click here for more about Tetracam's RGB + 3.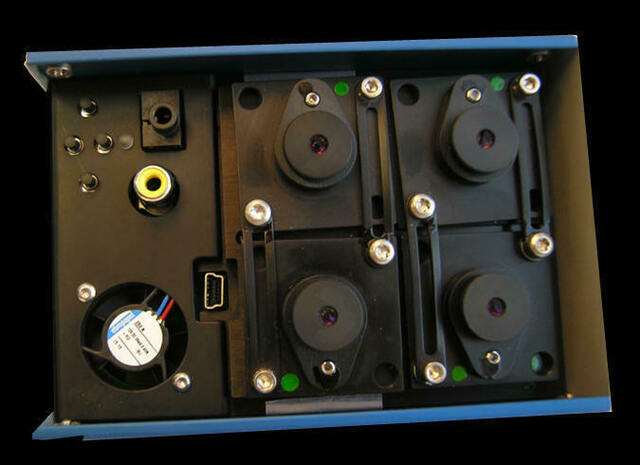 ---
Tetracam has now developed a Faster, Smaller, Lighter, Lower-cost Multi-Camera Array, with new low prices,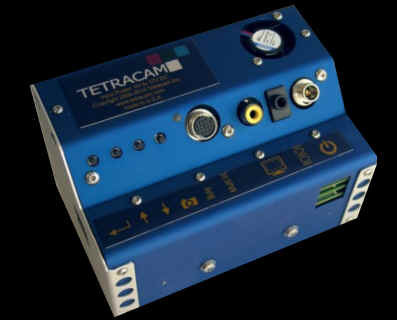 and a special cost-saving upgrade program for existing Mini-MCA owners. See product details here.
---
It Captures Reflectance: Introducing Tetracam's new electronic-Incident Light Sensor
---
---
---
Tetracam Bluetooth Controls Turn Your Android Cell Phone or Tablet into a Wireless GPS, IMU and Programmable Remote Camera Triggering Device: S_Link, Tetracam's new FREE Android App lets mobile device users signal cameras equipped with Tetracam's Wireless Camera Interface (WCI) to capture images at a set of waypoints they define and exchange GPS coordinates or aircraft attitude data with those same cameras wirelessly.
---
Tetracam Unveils New Camera Calibration Service: In order to produce precise ortho-rectified image mosaics, individual multi-spectral images must be geometrically-adjusted to compensate for camera distortions. To identity these, Tetracam now offers a comprehensive Camera Calibration Service that may be performed during camera manufacture or in response to customer requests.
---
Multi-spectral Ground Calibration on Sale - Multi-spectral Ground Calibration Targets Enhance Spectral and Image Positioning Accuracy: Tetracam now offers Ground Calibration Targets for multispectral calibration and image assessment.
---
AgWing Airborne: Tetracam dealer IDETEC launches Ag-Wing, a new easy-to-use small unmanned aerial system optimized for agriculture and mapping applications. For more, click here
---
Agritechnica - Christoph Schimmer with Tetracam's European Dealer, Geo-Konzept, is interviewed at Agritechnica, one of the largest agriculture technique shows in Germany, on the use of UAVs in Agriculture. For more, click here
---
Set Micro - Tetracam New Set Micro App Appears on Google Play - Lets users configure their ADC Micro using their Android SmartPhone (Get it FREE at Googleplay)
Tetracam FOV Android App - Calculate Camera Field of View, Ground Resolution and Maximum Ground Speed: Our new Tetracam FOV App lets pilots and UAV operators figure image area, max ground speed and more via their Android cell phone or tablet (Get it FREE at Googleplay)
---