The HawkEye's flight mission may be pre-programmed via its Goose Autopilot and Ground Control Software. The Hawkeye's GCS software enables users to pre-plan the mission's flight path, identify camera trigger points and monitor the craft as it moves along the pre-planned path. As the Hawkeye arrives at the designated waypoint, the Goose autopilot triggers the integrated Tetracam multispectral imaging system to capture an image. At the same instant, the GPS coordinates are recorded by the camera correlating the captured image with its geographical location. Goose ground control software plays on any Windows computer.
The Hawkeye may also be flown manually via its Spektrum RC controls. The craft has been designed to be a docile platform that is easy to operate for someone who has little experience with flying radio-controlled aircraft. The HawkEye has only two controls: Power which controls speed and altitude, and the roll servo which turns the aircraft right or left. The craft flies at approximately 10 knots per hour. The forward speed of the Hawkeye is determined by the parafoil wing and wind conditions only. In general, a HawkEye cannot be stalled like a conventional winged aircraft.
Due to it's specialized nature, the HawkEye is built to order. It is sold only to customers within the USA. Please contact us for more information regarding configuration options and pricing.
Be sure to check out the HawkEye Videos below!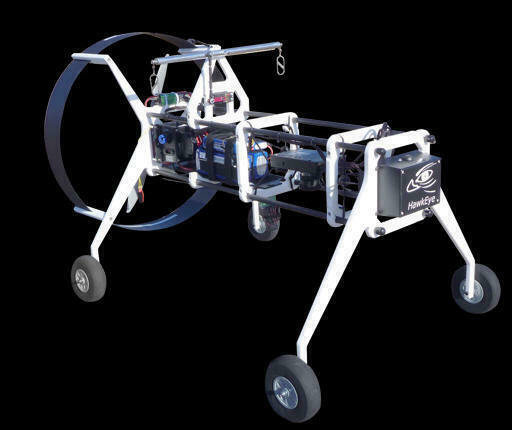 Features and Specifications